Tuyere (twyer) exchanger
Tuyere (twyer) exchanger
Oil pressure is produced by driving diesel engine, and drive(traveling), tilting, ascent/descent and hammer steering are conducted hydraulically.
Air hammer for both forward and backward strike is installed for withdrawal (extraction) reverse strike and tuyere driving forward strike. By using both hydraulic jack and hammer strike, tuyere extraction, driving and inner cold tube extraction can be done easily.
Forノロ(?)落とし removal and inner surface shaving after extracting tuyere, the surface is shaved with strike by turning the small air hammer along the circumference. Hammer is air-driven, and rotation is done hydraulically.
If the engine is started with engine operation panel, the following operation is done entirely by looking at the sites on the wired control panel.
2 lamps are installed on the top and bottom, allowing for easy operation in the dark.
Extraction, driving, inner cold tube removal, and inner surface shaving rod are set with 1 push-off pin, allowing for easy installation and removal.
Rubber crawler facilitates pivot turn, change of direction, and small repositioning. The engine meets gas emission regulation by the Ministry of Construction.
Tuyere extraction and transport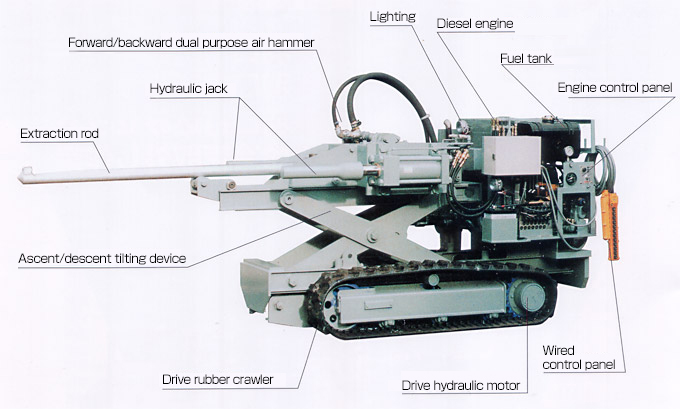 Install extraction (drawing) rod, and withdraw tuyure with hydraulic jack and forward/backward dual purpose air hammer. Extracted tuyure can be kept on the rod for transport.
Tuyere inner surface (face) shaving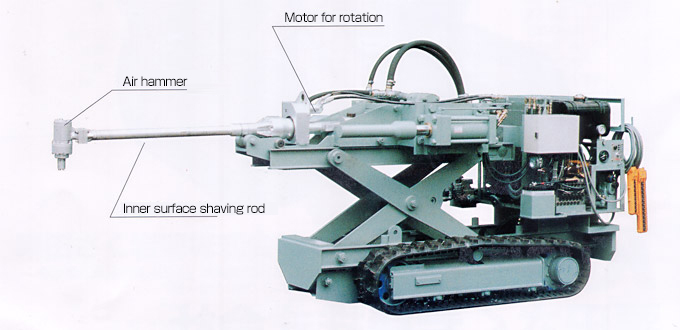 Install inner surface shaving rod and shave inner surface in order to removeノロ落し after extracting tuyere and format tuyere insertion site. Shaving machine moves back and forth and revolves along the circumference as it shaves the surface.
Tuyere driving set / Tuyere driving rod
Install (mount) tuyere driving rod and position new tuyere at the tip, and drive tuyere with forward strike of air hammer.

Inner cold tube removal / Inner cold tube extraction rod
Install inner surface shaving machine, and crush (grind) fire-resistant material in hooking part of extraction rod. Next, install inner cold tube extraction rod and insert it in the tube, so that it hits the inside of the tube of hooking part and come forward引込前方. Here, open the hooking part at the tip of inner cold tube, and extract it with hydraulic jack and reverse strike of hammer.

Inner cold tube removal / inner cold tube driving rod
Install inner cold tube driving rod, and set inner cold tube preset in tuyere at the tip of rod. Position it and drive it with forward strike of hammer.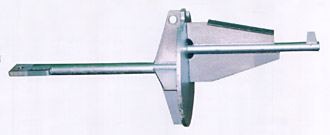 Specification
Overall Specification
| | |
| --- | --- |
| Weight | 2,870kg |
| Overall width | 1,170mm |
| Overall length | 3,674mm |
| Hammer stroke | 850mm |
| Overall height | 1,380mm |
| Diesel engine output | 17PS |
| | |
| --- | --- |
| Oil pressure | 21MPa |
| Oil content | 25ℓ / min |
| Striking machine model | KD-4H2 |
| Strike air consumption | 5~7M m³ |
| Travelling speed | 15m / min |
| Rubber crawler width | 260mm |
| Gradability | 20° |
Rod specification
| | | | | |
| --- | --- | --- | --- | --- |
| | Tuyere extraction rod | Tuyere driving rod | Inner cold tube extraction rod | Inner cold tube driving rod |
| Weight | 90kg | 108kg | 145kg | 190kg |
| Overall length | 2,020mm | 2,094mm | 1,850mm | 2,090mm |
| Diameter | Φ80mm | Φ80mm | Φ80mm | Φ80mm |
Tuyere inner surface shaving machine
| | |
| --- | --- |
| Model | R-56A |
| Weight | 80kg |
| Overall length | 1,785mm |
| Diameter | Φ80mm |
| Air consumption | 1.5N m³ / min |
| Number of strikes | 2,000blow / min |
| Hydraulic motor | J32EBD |
Strike hammer
| | |
| --- | --- |
| Model | KD-4H2 |
| Weight | 270kg |
| Overall length | 1,390mm |
| Forward striking force | 28kg / m |
| Backward striking force | 28kg / m |
| Air consumption | 5~7M m³ |
| Number of strikes | 2,000blow / min |
Steel manufacturing products
Public work related products