Hydraulic concrete dresser
Hydraulic concrete dresser

Hydraulic dresser is a concrete surface shaving machine. It is installed on hydraulic excavator, and operates on oil pressure of the excavator. It can be installed immediately for heavy machineries with breaker piping. It can turn the dresser in any direction with swing platen. The absence of strike makes it low noise and low vibration.

Cup bit

60Φ~100Φ cup bit is installed to shave concrete surface with rotation alone. Bit body has dust collecting holes in the center, and can collect dust with precipitator.
Cup bit can change positions on 4 faces. The position is changed with a bolt and used until the whole circumference of the cup bit is consumed (exhausted).

Hydraulic concrete dresser specification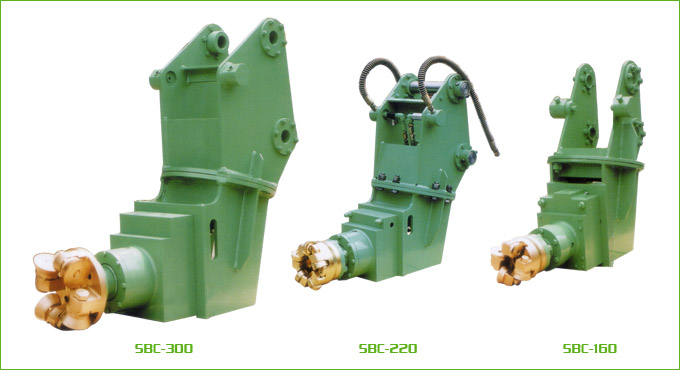 Model
SBC-300
SBC-220
SBC-160
Main body weight (kg)
330
200
80
Bracket weight (kg)
190
160
85
Bit rotation (PRM)
40
60
80
Oil pressure (MPa)
13
13
13
Oil content (ℓ)
70
50
30
Bit diameter (Φmm)
Φ108
Φ70
Φ60
No. of bit X flux diameter (Φmm)
4ヶ X Φ325
5ヶ X Φ234
4ヶ X Φ167
Capacity (m²/h)
Shaving depth
5mm
50
34
23
10mm
19
13
9
30mm
5
4
2.5
60mm
3
2
1.1
Installation model
Over 0.4
Over 0.25
Over 0.05
Continuous underground wall head chipping
Chipping work of installing shaft
Work by installing on 0.25m³ heavy machinery
Work with low noise as the work takes place in urban areas
It is free from vibration disease 振動病and can ensure safety, since it is installed on heavy machinery.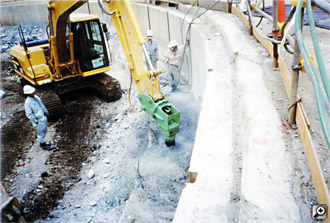 Wall surface chipping (breaking)
Chipping of continuous underground wall of vertical shaft
Pretreatment to improve adherence of new concrete
Work by installing on 0.25m³ heavy machinery
Work with low noise as the work takes place in urban areas
Install hammer on boom laterally and chip (break) the subject with the vertical motion of boom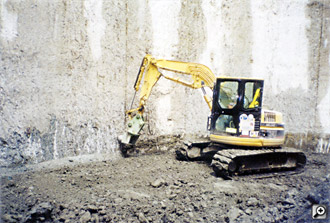 Continuous underground wall chipping (breaking)
Surface chipping of continuous underground wall of anti-flood pond
Pretreatment to improve adherence of new concrete
Work by installing on 0.25m³ heavy machinery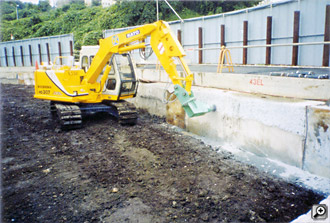 Steel manufacturing products
Public work related products